SQAWebinar689:Transform Testing: How to Turn Your Vision for Change into Reality #SQAWebinars08May2019 -Tricentis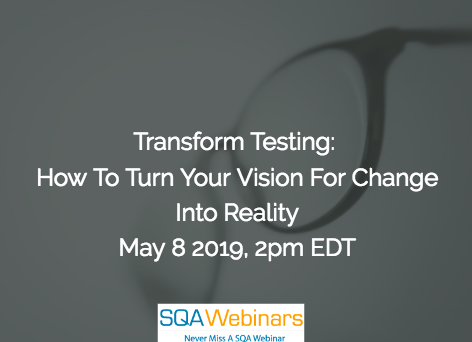 When: May 08 2019, 02:00 PM  EDT
What You Gain:
Gaining support from peers and executives by humanizing pain points and quantifying business impact
Building and executing implementation plans for new processes and tools
Soliciting feedback and responding to objections and pitfalls along the way
Q&A
---
Who Should Attend?
Test Engineers- Yes
Test Architects- Yes
Mobile/Automation Engineers- Yes
QA Managers- Yes
QA Directors- Yes
VP QA- Yes
CTO- Yes
Anyone who has curiosity to know about SQA/Testing Automation
Sponsor(s):
Tricentis
Speaker(s):
Adam Satterfield
—
Webinar Details:
As testers and quality leaders, many of you have a vision of how your testing processes and practices could be improved. But no matter how compelling your vision, success often depends more on execution than intention. So how do you make it a reality?
This webinar will share the keys to effective execution, as well as the lessons learned from his own experience implementing new tools and processes to accelerate transformation.