SQAWebinar690:Appium & Selenium in the Cloud: Challenges and Solutions #SQAWebinars16April2019 -Experitest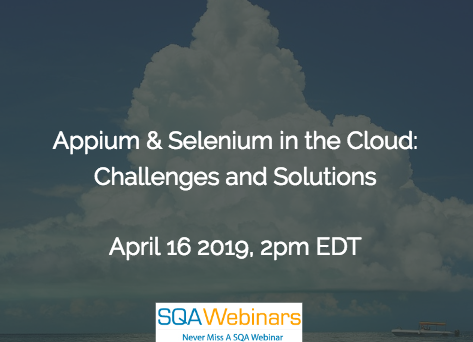 When: April 16 2019, 02:00 PM  EDT
What You Gain:
Performance and latency
Security concerns
Support for the entire DevOps team (developers, testers, business users)
Use case support – including integration with custom devices and peripherals
Cost structure and scalability
Q&A
---
Who Should Attend?
Test Engineers- Yes
Test Architects- Yes
Mobile/Automation Engineers- Yes
QA Managers- Yes
QA Directors- Yes
VP QA- Yes
CTO- Yes
Anyone who has curiosity to know about SQA/Testing Automation
Sponsor(s):
Experitest
Speaker(s):
Elad Dotan and Tal Barmeir
—
Webinar Details:
Rising demand for high quality digital apps is driving the adoption of cloud testing platforms. Cloud based platforms for web and mobile application testing promise scalability and agility without the operational hassle of local testing.
All too often the route to cloud testing proves more difficult than expected.