SQAWebinar672:Real World Uses Cases For Using AI In Enterprise Testing#SQAWebinars07Feb2019 #TestIM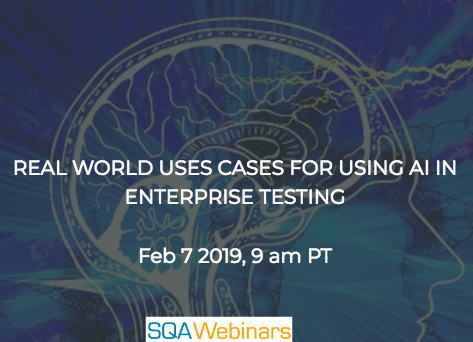 When: Feb 07 2019, 9 am PT
What You Gain:
Challenges that enterprise software teams face in releasing a high quality product
Examples of how AI was used to overcome these challenges based on actual implementations
Where and when AI can augment Dev and QA initiatives
Things you should consider when leveraging AI for your own software quality initiatives
Hear their AI stories from gaining management buy in to setting budgets and timelines to cultural changes and tool selections.
Cover the initial company goals, the reasons for the decisions they made and how they measured the before and after of their AI implementations.
Q&A
Who Should Attend?
Test Engineers- Yes
Test Architects- Yes
Mobile/Automation Engineers- Yes
QA Managers- Yes
QA Directors- Yes
VP QA- Yes
CTO- Yes
Anyone who has curiosity to know about SQA/Testing Automation
Sponsor(s):

Speaker(s):
Shawn Knight, Stefani Majić and Angie Jones
Webinar Details:
Many innovations have deeply influenced our lives such as smartphones, bitcoin, electric cars, and blockchain. What do all of these things have in common? Software. As technology evolves so does the way we develop and test the software that powers it. AI has become vital in analyzing large amounts of unstructured data. From identifying different patterns and relationships in data, to performing process optimizations and ensuring system works exactly as intended
Join this round table discussion with leading software quality practitioners who have used AI in production to ensure the quality of their software releases.