SQAWebinar660:How popsockets built a fully automated reporting solution #SQAWebinars17Jan2019 #snowflake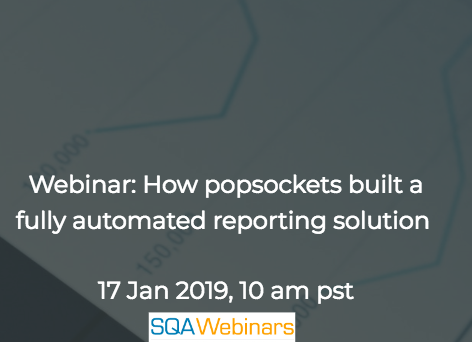 When: Jan 17 2019, 10 am PST
What You Gain:
How to bring together vast amounts of data from various sources
How to set up your analytics architecture to get better business intelligence
How to automate your reporting
Q&A
Who Should Attend?
Test Engineers- Yes
Test Architects- Yes
Mobile/Automation Engineers- Yes
QA Managers- Yes
QA Directors- Yes
VP QA- Yes
CTO- Yes
Anyone who has curiosity to know about SQA/Testing Automation
Sponsor(s):  

Speaker(s):
Not Known
Webinar Details:
eCommerce platforms generate a wealth of data about customer behavior and the performance of online storefronts, but this data is only useful if it is accessible. Manual data exports and reports cobbled together in Excel can only take you so far.