SQAWebinar661:Data Warehouse Testing: The Next Opportunity for QA Leaders #SQAWebinars07Feb2019 #Tricentis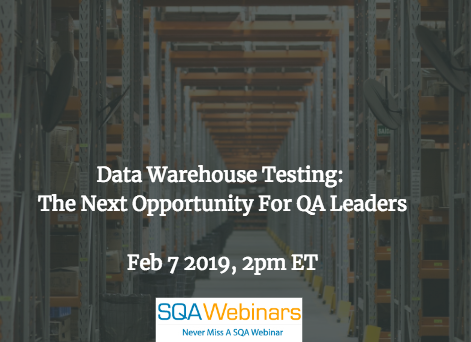 When: Feb 07 2019, 2 pm ET
What You Gain:
Why data testing is now an integral part of the quality process
How data testing compares to "traditional" software testing
How leading enterprises got started with data warehouse testing
The top challenges and how to avoid them
Q&A
Who Should Attend?
Test Engineers- Yes
Test Architects- Yes
Mobile/Automation Engineers- Yes
QA Managers- Yes
QA Directors- Yes
VP QA- Yes
CTO- Yes
Anyone who has curiosity to know about SQA/Testing Automation
Sponsor(s):  

Speaker(s):

Wayne Waddow

Raj Kanuparthi
Webinar Details:
If your organization isn't already recruiting traditional testers to safeguard data quality, they will probably start soon. As more organizations get serious about protecting data quality, we've seen data testing get added to the responsibilities of traditional testers.