20 + World-Leading Test Automation Experts online session January 8-10th 10AM-6PM (EST) 2018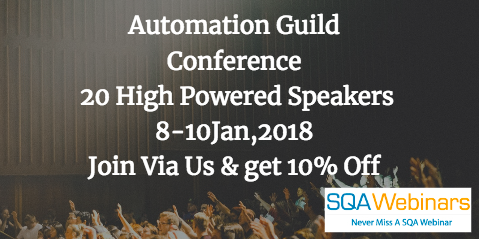 Most Awaited Expert Session that begins with the dawn of 2018.
Join via US and get a 10% discount on the Price..Code mentioned at the end of this page…
We highly recommend this online Epic Test Automation Conference where the Best Automation Experts of The Industry will be Sharing their experiences.
A very good way to start your year 2018 on a highly knowledgeable and technical note. Get into 2018 #HighlyTechnical.
This is a paid Automation Conference 197 USD and 10% off if you join using our promo code.
Conference Schedule:
Day 1 Schedule Jan 8 2018
Gil Tayar, Applitools
10:00 –

10:55

Not Only Cars:"AI, Please Test My Apps"

Richard Bradshaw,Ministry Of Testing
11:00

–

11:55

Don't be SCARED of automated checks/tests

Leo Laskin,
12:00

–

12:55

Anyone Can Cook With Automation

 
Jane Mareth


15:00

 – 

15:55


Getting Started with WinAppDriver

ShashiKant Jagtap
16:00

 – 

16:55

Hands On XCUITest for iOS apps

 ——
 Round Table Angie Jones, Ali Khalid and Oren Rubin
Day 2 Schedule- Jan 9 2018

Manoj Kumar, Speaker
10:00

 – 

10:55

From Call back's hell to using Async Await:Automated testing with JavaScript

REST APIs and WebDriver:In Perfect Harmony

Eran, PerfectoMobile
12:00

 – 

12:55

Perfecto Sponsored Speaker

How to Pass a Coding Interview as an Automation Developer

Lisa Crispin,
14:00

 – 

14:55

The Secrets of Successful Test Automation

Ash Coleman,
15:00

 – 

15:55

What Are Your Automation Tests Telling You?

Jason Arbon,


16:00

 – 16:55
Reliable mobile automation with AI
——

Day 2 End Of Day Roundtable- Paul Grvizzaffi and Meaghan Lewis

Day 3 Schedule Jan 10 2018

Toyer Mamoojee,
10:00

 – 

10:55

Automagically covering the Automation Pyramid and

Agile Quadrants

 Corina Pip


11:00

 – 11:55
Be productive in your 

automation 

with the Apache Commons 

helper libraries

Bria Grangard
12:00

 – 

12:55

SmartBear Sponsored Speaker – Laying the Foundation for Enduring Success: Elements of a Test Framework

Automated Deployment To AWS

Paul Grossman
14:00

 – 

14:00

The Dark Arts of Functional Testing with UFT 14.0

Michelle XIE,
15:00

 – 

15:55

How does Automation Developer Work with DevOps

Better Unit Testing by Example

Robust and reliable Android app automation with Espresso

 

Host of this Event Joe Colantonio, TestTalks
Discount Code 10%-  Please use our handle on Linkedin, Twitter, Instagram , Facebook or Instagram [All Caps]
Group Discount-20%, for that drop us an email [ info at sqawebinars dot com]