SQAWebinar687:Defending Against The 3 Biggest Cyber Threats #SQAWebinars04Apr2019 -Schneider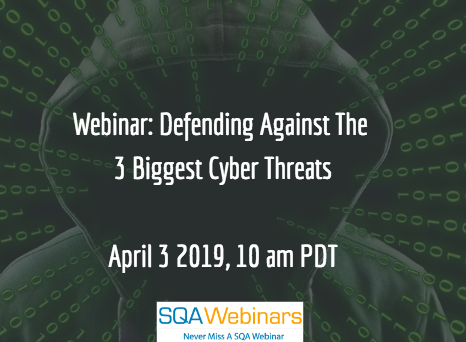 When: April 04 2019, 10:00 AM  PDT
What You Gain:
Malware, including Ransomware
Phishing/Social Engineering
Man in the Middle

Attacks

Q&A
---
Sign Up
Who Should Attend?
Test Engineers- Yes
Test Architects- Yes
Mobile/Automation Engineers- Yes
QA Managers- Yes
QA Directors- Yes
VP QA- Yes
CTO- Yes
Anyone who has curiosity to know about SQA/Testing Automation
Sponsor(s):
Schneider
Speaker(s):
David Lee, Oral Gurel and Marty Edwards
Webinar Details:
If the best defense is a good offense, then today's industries in WWW, F & B, and MMM could do more. This webinar features an expert panel discussion of how to tackle three of the biggest risks that threaten industry today. Webinar will discuss real-world situations and examples of how to combat the threats.