SQAWebinar685:Optimizing Testing Efforts Through AI #SQAWebinars13Mar2019 -QualiTest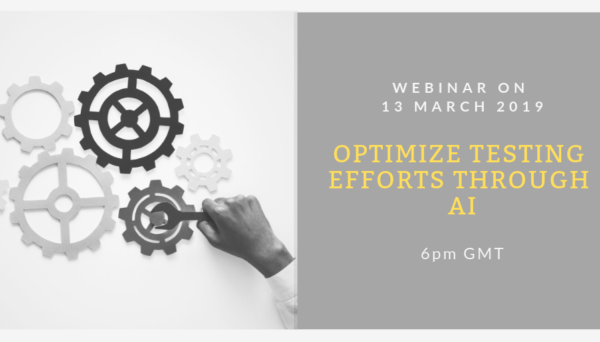 When: March 13 2019, 10:00 AM  PST, 1PM EST, 6pm GMT  
What You Gain:
Real-world examples of AI in action to speed up time-to-market, reduce costs and free engineers to focus on what matters most
How AI can help to better understand testing and identify defect trends
Using AI to shift tests left or right to optimise effort expenditure
How AI can help find gaps in testing efforts, whether low coverage or new testing types
Using AI-provided insights to assist us in grooming test automation backlog tasks
Q&A
Who Should Attend?
Test Engineers- Yes
Test Architects- Yes
Mobile/Automation Engineers- Yes
QA Managers- Yes
QA Directors- Yes
VP QA- Yes
CTO- Yes
Anyone who has curiosity to know about SQA/Testing Automation
Sponsor(s):

Speaker(s):
Chris Livett and Daniel Geater
Webinar Details:
How artificial intelligence can help you achieve up to 6X increased testing velocity.
In an agile world, developers are under pressure to release new software continuously, while at the same time, applications are becoming more complex and multi-layered.
Many have turned to risk-based testing (RBT) as their saving grace, only to realize that RBT has its limitations—namely, accuracy and speed. The likelihood and impact of the failures are often based on instinct, not facts and data.
To meet the true goals of RBT, risk-based testers need help, and the answer is planning augmentation using AI.