SQAWebinar681:A Path To Autonomous Testing #SQAWebinars27Feb2019 #pCloudy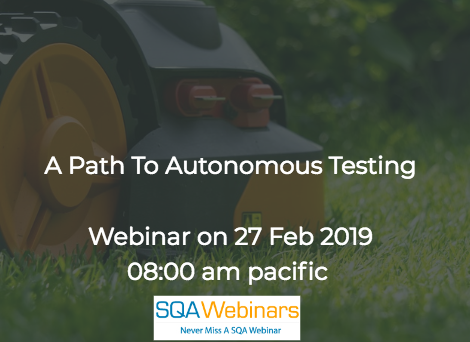 When: Feb 27 2019, 08:00 AM  PST  
What You Gain:
Emerging AI-ML practices to improve software testing
Use cases where AI-ML can be used
Autonomous capabilities for Mobile App Testing
Q&A
Who Should Attend?
Test Engineers- Yes
Test Architects- Yes
Mobile/Automation Engineers- Yes
QA Managers- Yes
QA Directors- Yes
VP QA- Yes
CTO- Yes
Anyone who has curiosity to know about SQA/Testing Automation
Sponsor(s):

Speaker(s):
Avinash Tiwari and Diego Lo Giudice
Webinar Details:
The metaphor "Don't follow me, you won't make it" suits in the context of the adoption of AI. Organizations adopting Artificial Intelligence – Machine Learning in their business processes will have a huge advantage compared to others.
One of the Area AI-ML can play a big role is App Testing. In this webinar, you can get to plan your move towards autonomous testing.