SQAWebinar677:The QE/QA Role: Supporting DevOps the Smart Way #SQAWebinars13Feb2019 #DisruptTesting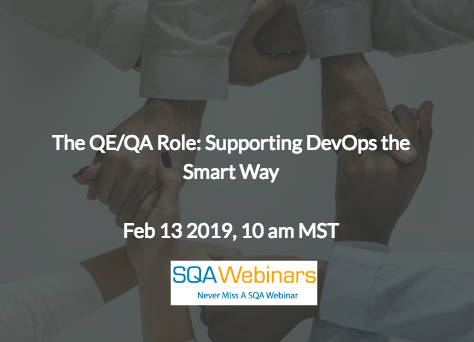 When: Feb 13 2019, 1 pm ET 
What You Gain:
The main focus areas that QA/QE should explore within DevOps.
Focusing on more valuable automation, shifting traditional "right" tasks left, and tailoring refinement to account for more efficient activities.
Take away practical outcomes that will be relevant no matter where you are in your DevOps implementation.
Q&A
Who Should Attend?
Test Engineers- Yes
Test Architects- Yes
Mobile/Automation Engineers- Yes
QA Managers- Yes
QA Directors- Yes
VP QA- Yes
CTO- Yes
Anyone who has curiosity to know about SQA/Testing Automation
Sponsor(s):
–
Speaker(s):
Melissa Tondi
—
Webinar Details:
—