SQAWebinar674:Exploring the Unsolved Challenges in Mobile Test Automation #SQAWebinars06Feb2019 #Tricentis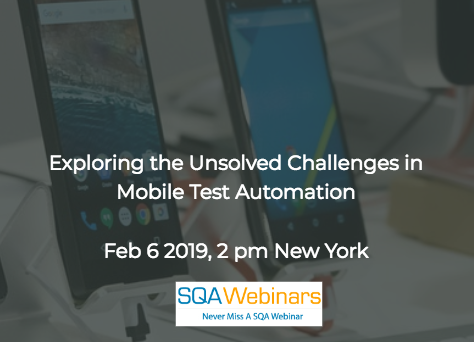 When: Feb 06 2019, 2 pm New York Time 
What You Gain:
The greatest misconceptions and mistakes around mobile test automation
How much testing is really enough
Where AI fits in the context of mobile app testing
Q&A
Who Should Attend?
Test Engineers- Yes
Test Architects- Yes
Mobile/Automation Engineers- Yes
QA Managers- Yes
QA Directors- Yes
VP QA- Yes
CTO- Yes
Anyone who has curiosity to know about SQA/Testing Automation
Sponsor(s):

Speaker(s):
Christian Mayer
and
Pradeep Soundararajan
Webinar Details:
Mobile apps have become a core channel for all businesses, whether you are a budding startup or established enterprise. But many continue to underestimate the importance and difficulty of testing mobile apps.
Mobile testers need to consider the variety of operating systems, devices, manufacturers, app versions, customization, screen sizes, network strength, multiple technology stacks… the list goes on. But do you really need to test every possible option and combination?