SQAWebinar670:How to Choose the Best API Testing Solution for Your Organization #SQAWebinars30Jan2019 #parasoft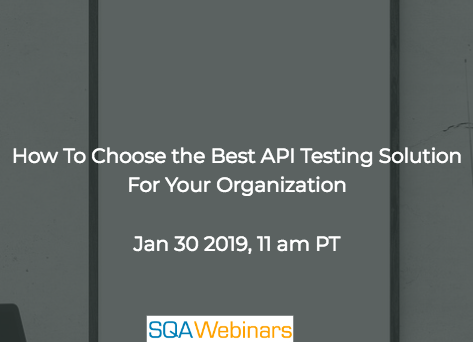 When: Jan 30 2019, 11 am PT
What You Gain:
Essential tools for building a sustainable API testing strategy, including how to increase efficiency and reduce rework by leveraging AI and machine learning
Working with specialized protocols to support key initiatives (i.e. IoT, microservices)
How to effectively manage and maintain your test library as services change, reducing maintenance costs by effectively understanding the impacts of change
Techniques to scale API testing across your organization, including maturity indicators and how to evolve simple tests into complex end-to-end testing scenarios
Q&A
Who Should Attend?
Test Engineers- Yes
Test Architects- Yes
Mobile/Automation Engineers- Yes
QA Managers- Yes
QA Directors- Yes
VP QA- Yes
CTO- Yes
Anyone who has curiosity to know about SQA/Testing Automation
Sponsor(s):

Speaker(s):  
—
Webinar Details:
There is no question that API testing is integral for identifying defects at multiple layers of your application and ensuring a seamless customer experience. But there are many different approaches and tools available on the market.
How do you get the ROI you're looking for to achieve the automation necessary to deliver high quality software at the speed of Agile and DevOps initiatives?