SQAWebinar669:Strategies for a Successful Test Automation Project #SQAWebinars14Feb2019 #gurock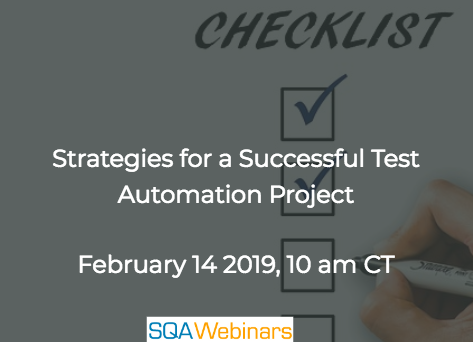 When: Feb 14 2019, 10 am CT
What You Gain:
Analyzing your current processes
Creating an automation project plan
Organizing the right team
Preparing a handful of test cases for automation
Selecting tools for evaluation
Doing a proof of concept.
Implementing the selected automation solution.
Planning time for training
Automating test cases
Reflecting and adjusting
Q&A
Who Should Attend?
Test Engineers- Yes
Test Architects- Yes
Mobile/Automation Engineers- Yes
QA Managers- Yes
QA Directors- Yes
VP QA- Yes
CTO- Yes
Anyone who has curiosity to know about SQA/Testing Automation
Sponsor(s):

Speaker(s):  
—
Webinar Details:
Join this webinar for an in-depth examination of strategies to ensure that your automation project achieves your goals, and delivers the ROI that you expect.