Swiss Army Knife for Test Design: Choosing a Test Design Technique January 22, 2018 10:30 AM PST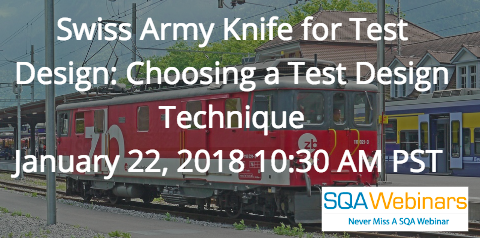 Click Here or Use the URL http://bit.ly/22jan18knife
What you get?
Robert Sabourin shares several test design approaches including many single variable, multiple variable, and combinatorial approaches.
Selects an appropriate test design technique based on the test objective, quality view, scope, and risk-based priorities.
For each approach Rob shares at least one example of how the approach can be used to design powerful tests in varied circumstances.
Speaker: Robert
Sponson: Amibug.com